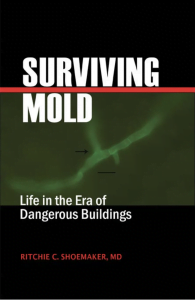 Ritchie Shoemaker, M.D., writes another great book on his research on mold and battles with government agencies, insurance companies, and his own medical community. It's all about the money and noone wants to pay for mold remediation. Sometimes it is harder to get a school board to fix a school that is making all the kids and teachers sick than it is to get the tobacco companies to pay up for giving their customers lung cancer.Dr. Shoemaker comments: Proving that mold causes common illnesses that are rarely recognized by physicians has been a challenge. Swimming upstream in the whitewater rapids of current medical opinion has not been easy. Proving that water damaged buildings or harmful to some people, against the massed forces of building owners, insurance companies, and their lawyers, each with a cadre of highly-paid 'experts,' has taken six years. Along the way, withstanding unfounded criticism, unsubstantiated accusations and unwarranted personal attacks from the old world has become a way of life for Mold Warriors. But that life has brought victories in courtrooms and in recovered health of patients for whom hope had been a lost four-letter word.
A number of people have asked me for a frequency set for the black mold, Stachybotrys chartarum. I've recently worked on a few contaminated houses and decontaminated equipment for clients. After repeatedly getting infected with the mold helping other people, I have carefully refined the frequency set below to eliminate it from human and animal systems, from inside houses, and from lawns infected with it.
Programs are specified in the F100 programming language documented at http://www.atelierrobin.net. This is a powerful scripting language for Rife frequencies as it allows careful control of dwell, pulse, and duty cycles. All programs run square waves with a duty cycle of 66.6% to take advantage of harmonics.
Programs run the primary frequency as a carrier wave modulated by scalar octaves of the primary frequency. Those who want to run these frequencies on devices with a limited frequency range should use the scalar octaves generated by the programs. Scalar octaves and how to calculate them are described at:
http://www.frequencyresearch.org/2005/05/where-do-scalar-octave-frequencies.html
The black mold frequency set has programs that will work on all types of F100 devices, instructions on how to convert these programs for the FSCAN, and a specific frequency set below 10000hz that can be programmed into any type of Rife device.
Subscribers have access to these and many other frequency sets.