Parasites Rule the World – Toxoplasma gondii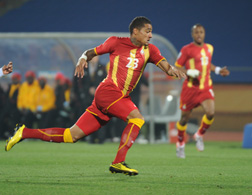 What if I told you that last week I predicted all eight winners of a round of the World Cup? And that instead of rankings or divination all I did was look up how many people in each team's home country had a tiny parasite lurking in their amygdalas? Would you believe me? A decade ago,
Discover Magazine
concluded that
parasites ruled the world
, and now I'm going to try to tell you that, at the very least, parasites rule the World Cup.
First, a quick primer on the organism in question, a single-celled parasite called
Toxoplasma gondii
.
Toxoplasmosis
T. gondii
infections have the ability to change the behavior of
rats
and mice, making them drawn to rather than fearful of the scent of cats. This effect is advantageous to the parasite, which will be able to sexually reproduce if its host is eaten by a cat.
[11]
The infection is highly precise, as it does not affect a rat's other fears such as the fear of open spaces or of unfamiliar smelling food.
Studies have also shown behavioral changes in humans, including slower reaction times and a sixfold increased risk of traffic accidents among infected males, as well as links to schizophrenia including hallucinations and reckless behavior
[13]
. Additionally, studies of students and conscript soldiers in the
Czech Republic
in the mid-1990s highlighted the fact that infected people showed different personality traits to uninfected people—and that the differences depended on sex. Infected women were more likely to become more outgoing and showed signs of higher intelligence, while men became aggressive, jealous and suspicious.
The prevalence of human infection by Toxoplasma varies greatly between countries. Factors that influence infection rates include diet (prevalence is possibly higher where there is a preference for less-cooked meat) and proximity to cats. It has been suggested that climate change will also influence Toxoplasma gondii prevalence in some regions of the world.
———–
Frequency Foundation subscribers check the subscribers blog for frequencies.